The river and event locations included in this section represent trips and events that KCCNY members commonly meet.
Beaverkill, Roscoe, NY, venue river 
Location is approximate. Trip coordinator will provide exact meeting place and time.
Brodhead Creek, Canadensis, PA, class 3 whitewater river 
Location of Take-Out Address: Paradise Valley Rd, Stroud Township, PA 41.068074,-75.219755 Minimum….
Croton River, Croton, NY, class 3 whitewater river 
Croton is a short run convenient to the NY suburbs for many of our members. It really isn't class 3 at normal levels, but has several dams and a  rocky stretch that are normally run and present hazards
Deerfield, Monroe Bridge (Dryway), Monroe, MA, class 4 whitewater river 
The Dryway is for better or worse the definition of a class 4 in our area. With frequent releases in a beautiful area, it's as good as spot as any to step up and a great place to practice moves. But don't let it's popularity full you...nearly every major rapid has had serious injuries. This is no place for shaky skills or a sometimes roll.
Garfield Boys and Girls Club Pool, Garfield, NJ, unclassified place 
Our beautiful pool. Enter thru the door that says the pool entrance is further along the ramp with your clean boat and equipment. Spacious locker rooms are thru the doors to the right of the bleachers.
Housatonic River Bulls Bridge, Gaylordsville, CT, class 4 whitewater river 
This is a frequently run section with a solid class 4 start. Details are on bullsbridge.info  . At higher levels there are a number of bad holes, so this section should not be attempted without a good guide or mad skills.
Hudson Gorge, North River, NY, class 3 whitewater river 
Hudson Gorge
Ken Lockwood Gorge (South Branch of the Raritan River), Califon, NJ , class 3 whitewater river 
A flow-dependent boulder garden in between Califon and High Bridge in Lebanon Township, New Jersey. At lower levels, it is a technical Class II river. At higher levels, it is mostly waves and holes. Be on the lookout for strainers, especially near the two islands.
Lehigh River - White Haven, White Haven, PA, class 3 whitewater river 
The Lehigh is a great beginning whitewater river with frequent and well attended summer releases. River Classification *II – III
Mongaup River, Lumberland, New York, venue river 
This regional gem has regularly scheduled recreational releases and frequent power releases….
Moodna Creek, New Windsor, NY, class 4 whitewater river 
Moodna Creek holds well and can be run at a wide range of levels; creeky at lower levels, avoidable big holes at higher levels.
Neversink River Gorge, Monticello, NY, class 3 whitewater river 
the Neversink is mostly class 1 to 2, but has about 1.5 miles of exciting class 3 to 4 rapids about halfway through. The gorge is very remote and isolated
Online, Online, , venue place 
For virtual events and meetings.
Savoy State Park, Florida, MA, unclassified place 
Camping for Deerfield Demofest conveniently located near Dryway. https://www.mass.gov/locations/savoy-mountain-state-forest
Tohickon Creek, Pipersville, PA, class 3 whitewater river 
Our classic step up river with several creeky drops not normally found on class 3 rivers. With a good guide someone solid on the Mongaup can have a great time. First weekend of Nov. and 3rd weekend of March releases are the classic bookends of the release season and many folks paddling seasons, with camping along the river at the take out unless the Delaware is flooding.
West River, Jamaica, VT, class 3 whitewater river 
Note that address is the takeout for the whitewater run as the….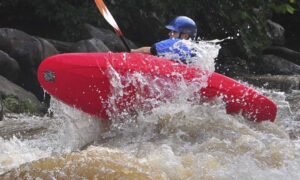 KCCNY does not rate rivers. Any ratings shown below are either taken from guidebooks, websites, or reflect the opinions of paddlers who regard themselves as familiar with the river, and are, in any event, generally dependent on water levels and conditions. When disagreement occurs as to river rating, American Whitewater's ratings are used.
Disclaimer: They are not the opinion of KCCNY, which expressly disclaims any responsibility for their accuracy. Neither KCCNY, nor its officers, directors, and trip coordinators, nor the volunteers who provided information for this plan, can be held liable for any decisions based on the information provided in this plan. Opinions expressed in these river and event descriptions are not necessarily those of KCCNY, its officers, directors, or volunteers.
*If you'd like to add a river to this list contact us or fill out the form on our river submission page.