Welcome to the Kayak and Canoe Club of New York, the NY metro area's largest and most active whitewater paddling club.
The club has new insurance that makes it easy for volunteer coordinators to run trips. So beyond requiring waivers and running trips with the same ACA procedures (as they are good and generally accepted procedures ) we've used for years all that is now required is submitting the trip (and get someone else to go).
Trip participants will no longer have to pay the ACA's high fees. However, in order to cover the cost of insurance, we were forced to raise membership fees. However, the total cost is still less then our old membership + the ACA's costs for both members and guests.
As we get into the paddling season, we remind you to dress for the swim because cold water kills.
If it's wet the hardcores will likely hit the river and post trips and we've already got trips scheduled for spring and summer releases.
About The Kayak and Canoe Club of New York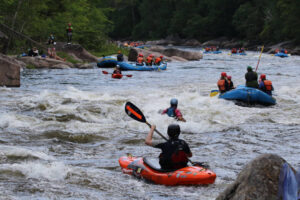 The Kayak and Canoe Club of New York is one of the largest whitewater paddling clubs in the East, and despite our name, serve New Jersey, Pennsylvania and Connecticut as well as New York. KCCNY features a whitewater paddling program with trips nearly weekend of the paddling season, though the die hards paddle year round! We've run rivers from Canada to the Carolinas, with most trips within a three-hour drive of New York City. Learn more about us.
Our schedule has trips for the normal rainy seasons, most mid-Atlantic water releases and occasionally ocean surfing, as well as practice and play on the ever-flowing Delaware.
While on the rivers, veteran paddlers will gladly give useful hints to better boating. We even have instructors who assist with pool session rolling and practice during the winter and schedule various formal instruction trips throughout the paddling season.  .
Off the river, KCCNY is noted for our longstanding efforts at conservation and river management.
We also raise and donate funds to organizations such as American Rivers and American Whitewater to help their programs in river conservation and paddler access. We also raise money to get folks into the sport including training and loaner whitewater gear.