This summary of our procedures is intended as a guide to help you and the others with you enjoy the event.
To schedule a trip, use our submit an activity form.
Before the trip begins:
Assess the skill level and preparedness of participants. Any participant that the coordinator feels is not suited for the trip shall not be permitted to participate. This may include, but is not limited to, assessment of skill level, appropriate clothing and equipment and its condition, and suspected use of alcohol or illegal drugs. Any paddler whose conduct is, in the opinion of the trip coordinator, potentially hazardous to him or herself or to the group will be asked to leave the group. If cell phone coverage or access is not available during the majority of the trip, a responsible party should know your plan, whom to contact and when in the event of a significant delay.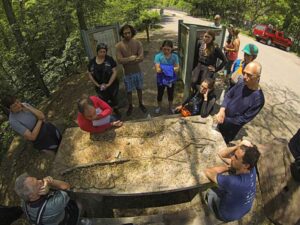 KCCNY understands that volunteer coordinators must make a decision based on the overall group safety and with limited information on abilities and risks. Other than adhering to KCCNY's anti-discrimination policy, the decision to exclude a participant is entirely up to the coordinator. If a potential participant doesn't agree with the decision, have them reach out to the safety or activities chair or any board member.
The trip coordinator has the authority to adjust the specifics of the trip, including the river (and the section of the river) to be paddled, to account for conditions existing at the time of the event, such as weather, water levels, or the specific make-up of the group (i.e. number of paddlers, ability levels, etc.). Any changes are to be noted on the trip report filed with the ACA.
KCCNY club trips are characterized by all the paddlers contributing what knowledge and experience they possess towards the group's fun and safety on the river. A trip coordinator is merely a club member who has volunteered to arrange the meeting of interested members to paddle at a particular place and time. While coordinators often have specific knowledge of the river in question, this is not part of their responsibility. Once on the river, coordinators have no burdens as guide or trip leader.
Review the ACA risk management requirements with the group before getting on the water. The  ACA risk management requirements include that everyone must wear a good life jacket, a helmet in class 1 and up and the group needs a certain # of throw ropes depending on river class and group size.
Before the activity
Contact participants – Participants need to know the meeting location and shuttling plan.
Coordinators need to check waiver status which is part of our membership list.
We recommend you compile a list of potential participants with contact info and waiver status (which can be copied and pasted from our membership list.
If possible, let folks know what to do if running late. Many places we meet have poor cell reception.
Compile a list of expected participants, phone numbers and waiver status which can be copied from the membership list.
Print out a few paper waivers in case someone shows up like a friend of a participant who is otherwise qualified to paddle the river.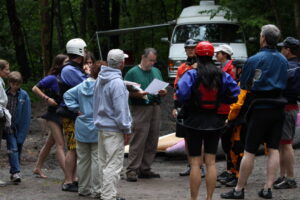 At the Start of the Event
All participants must read and sign the waiver and release of liability before the event begins.  If the waiver's not on file you need a signed waiver.
Non-KCCNY members require a signed waiver for each event.
If you have any doubt about a participant's waiver status, insist on a complete and signed paper waiver.
Announce at the start of the event that "If you have not signed a waiver and paid the event fee, if applicable, then you are not a participant in KCCNY's trip or event. If you choose to paddle the river on your own then you do so at your own risk."
Check for proper equipment. Inadequate helmets and pfds are usually pretty obvious, but insufficient clothing, missing or underinflated float bags are less obvious.
If you're concerned, ask folks to prove skills by rolling or wet exiting.
After the Event
In the event of a serious injury, immediately notify the insurance company (American Specialty) by calling 1-800-245-2744. American Specialty will answer calls to this number, 24 hours a day, 365 days a year (if calling after hours, follow the instructions for emergency claims reporting).
Injuries and property damage need to the ACA National Office within seven (7) days of the activity. Contact the safety chair and/or president as soon as possible.
If everything went well, fill out the brief form on our trip reporting page.
Special Situations
Trips with other clubs

Sorry – if it's not an official KCCNY trip with ACA insurance and waivers, it can't go on our schedule. Non-KCCNY members can come as guests. Like all guests, they need to be ACA members or pay the ACA event fee and sign and submit a waiver.
*Adding Class 3 and up rivers.
If a class 3 or harder  river section is not listed on our approved rivers page , coordinators must submit a detailed safety plan as required by the ACA Risk Management Guidelines at https://www.americancanoe.org/page/Insurance_Request at least 14 days prior to the event or with written approval from the ACA insurance coordinator (which often can be expedited).
Class 3 and above river sections can be added to our approved rivers page by filling out the form on our river submission page.
Questions – contact us.