Jack Goldstein, a low-key individual who loved nature, sports, the outdoors and, above all, his fellow man, was interested in respect for and conservation of our natural resources. Kayaking the many wild and scenic rivers of the northeast has been his and his family's avocation. It was this interest and desire to share his love of God's given beauty with as many friends and "soon-to-be" friends which brought him together with many early river runners whose names have become synonymous with the legend of our sport. It was the idea of Jack and his friends to form an unstructured club whose main interests would lie in the enjoyment of wild and scenic waterways and to find similarly inclined persons.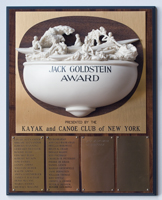 Thus KCCNY was founded and grew. In the early years we also became involved in racing and in the development of national champions as well as world-class competitors.
When Jack passed away in September of 1967, a committee recommended that his work must never be forgotten. Competitors would win trophies, many boaters would come and go. Some would be remembered for deeds and accomplishments good, and some perhaps not so good. But work the like of Jack Goldstein's would become legend.
Criteria thus established would resemble Jack Goldstein's continuous constructive work for the betterment of whitewater sport on and off the water and for KCCNY in particular. Recognition is thus awarded for many years of devoted, intuitive, Imaginative and creative service to our Club.
The recipients have been: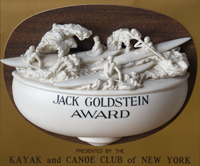 1968 Edgar Alexander
1969 Miriam Alexander
1970 Robert Manning
1971 Gerhard Mueller
1973 Bonnie Bliss
1974 Edward Bliss
1976 Robert Nelson
1977 Thomas Daniel
1978 Sandy Johns
1979 William Huber
1980 Ralph Johns
1981 Anita Lustenberger
1982 James Raleigh
1983 Denis McLane
1984 Maria Daniel
1985 Michael Malone
1988 Edward Hanrahan
1989 Ann Cali
1991 Phyllis Horowitz
1992 Helen Chase
1993 Donald Mason
1994 Ken Fischman
1995 Charles Peterson
1996 Pierre DeRham
1997 Daniel Lennox
1998 Marian Greenfield
1999 Jane Bernstein
2000 William Thomas
2001 Ken Voytac
2002 Cheryl Shiber
2003 Pete Skinner
2004 Roger Gocking
2005 Jack Moskowitz
2006 Lauren Cook
2007 Ellen Moskowitz
2008 Laura Kirsch
2009 Dave King
2010 Wayne Gulmantovicz
2011 Dan Kirsch
2013 John Coraor
2018 Fran Duggan
2019 Andy Frey
Congratulations to all Goldstein Award recipients. Their service to KCCNY over the years has made them worthy of all our thanks.
The Goldstein Award itself is a porcelain sculpture by early member Gerhardt Meuller.