2 hour pool session to try  everything from basic handling to advanced play-boating to working on that all important roll.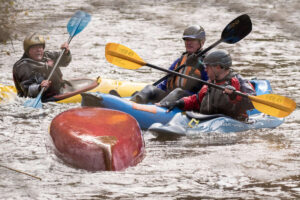 Though totally optional, we'll spend part of the time working on some basic whitewater safety items that can make coordinating trips easier and safer, including throw ropes and hand of god rescues as well as boat plowing, paddling carrying someone else's paddles and towing boats and people. We'll also discuss such important concepts as don't don't be 2nd victim and planning your actions. The idea is give folks practice with skills that will help them coordinate/assist, especially cleaning up yard sales as occasionally happens on beginning whitewater trips.
Pool sessions continue every Sunday for 2 hours from 2.30-4.30 until the end of March
Limited # allowed in the pool.
$3 day of surcharge….Register Saturday or before.
Discounts available to certified instructors teaching the majority of the session. Please contact our training chair.
Many of the regulars are skilled boaters who will be glad to offer (usually good and helpful) advice.
Loaner equipment is available with prior arrangement.
Clean your equipment.
Attendees who registered. Some folks may have contacted the coordinator personally.
Approved:
Matthew Dundas

Adult Ticket - non KCCNY/AMC member
Longer then 14' boat surcharge

Javier Castano
Andrew N de la Torre

Season Ticket Adult KCCNY Member - All 10 remaining Sessions

Erik Werner
Allan Wood
Christopher Dubetsky
Jesse Koproski
Neil Grossman
Erik Sengstaken
Mario Longobardi

Adult Ticket - non KCCNY/AMC member

Morgan De Marco
John Gillerman
Kate Eyerman

5 Sessions (KCCNY members only)

Daniel Kirsch
Christopher Magro

Adult Ticket - non KCCNY/AMC member
Waiting on waivers/membership/not yet approved:
Erik Schomburg
Chana Frommer
Julie McCoy
Jo-Ann Durdock
Bookings
Register only for the signed in user. Booking for someone else makes tracking waivers and checking in difficult.
Bookings will not be approved unless registrant has the proper membership. Memberships renew at the beginning of the calendar year. Check your membership status. If neeed, Join or Renew. Waivers reguired for all on water activies.
Bookings are closed for this event.