Description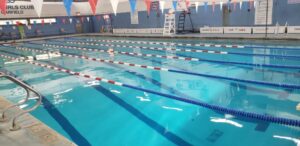 Pool Session to try  everything from basic handling to advanced play-boating to working on that all important roll.
We'll be offering a total of 16 sessions at the Garfield, NJ Boys and Girls club for the 2021-22 season, every Sunday in Dec. thru the end of March.
Though there are usually many skilled kayakers at each session. If a trained instructor is planning on being at the session we'll post in that session.
CLEAN YOUR BOAT
All boats must be washed before each pool session, in plain view, on the deck of the pool, before the boat is placed in the water. All water contained in boats must be dumped onto the deck surrounding the pool and the owner must immediately properly discard of any  debris.
Remove float bags, throw ropes…anything that might hold debris.
Whitewater kayaks & canoes only unless prior arrangements are made with pool coordinator.
KCCNY does not own any equipment but we may be able to arrange for you to borrow boats and gear if arrangements are made several days in advance. You will probably need a vehicle and need to meet up beforehand to get equipment.  Contact the equipment chair Chris Dubetsky for more information.
INSURANCE/WAIVERS
SAFETY
A helmet and a personal flotation device must be worn in the water.
No one may stand, swim or be in the water unless they are in a boat or are an instructor actively teaching.
We'll evaluate COVID precautions, but at this point will require proof of full vaccination and masks in hallways, locker room and on the deck… except while showering and in the pool. We're also asking folks to stay in 1 area of the pool and of course if you are symptomatic or exposed don't come.

We've put a limit on the # of folks as we don't want it to get to crowded so
This is a spacious pool with high ceilings, big locker rooms and we're the only folks in the entire facility at this time, with only a small scuba class preceding us.
Costs
$20 per adult and $5 per child per session with generous discounts for every session. $10 surcharge for paying at the door.
We've tried to offer a reasonable price, but renting a pool is expensive. We do hope to not loose money, but if we make some KCCNY traditionally donates most of our 'profit' to organizations that further our cause. In 2021 we donated $500 to American Whitewater and $250 to American Rivers. We've donated as much as $1250 in recent years. Learn more.
The KCCNY Pool Event Coordinator(s) are the authority at pool sessions and KCCNY reserves the right to expel anyone who does not follow the lifeguard's and or the Event Coordinator's instructions as well as these rules.
REGISTRATION:
More sessions will be added as dates get closer.