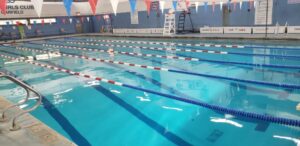 Pool Session to try  everything from basic handling to advanced play-boating to working on that all important roll.
We'll be offering a total of 15 sessions at the Garfield, NJ Boys and Girls club for the 2021-22 season, Every Sunday in Dec. thru end of March except Dec. 26 and Jan. 2.
Though there are usually many skilled kayakers at each session, instruction is not guaranteed unless prior arrangements are made. Please contact our training and instruction chair Helga Trocha for more information.
KCCNY does not own any equipment but we may be able to arrange for you to borrow boats and gear if arrangements are made several days in advance. Contact the equipment chair Chris Dubetsky for more information
All boats must be washed before each pool session, in plain view, on the deck of the pool, before the boat is placed in the water. All water contained in boats must be dumped onto the deck surrounding the pool and the owner must immediately properly discard of any  debris.
Remove float bags, throw ropes…anything that might hold debris.
A helmet and a personal floatation device must be worn at all times  while in the water.
Minors must be accompanied by an adult, and no minor will be admitted without a waiver signed by a parent or court appointed legal guardian.
American Canoe Association membership is required (for insurance).  Go to https://americancanoe.org/join/individuals/ to join at $40/year or pay the 1 day per person fee when you register.
American Canoe Association Waivers are required.
KCCNY members only need sign 1 per calendar year. Go to http://kccny.com/0/MembershipInfo.aspx to join or renew. Non-members must bring signed waiver.
No one may stand, swim, play or otherwise enter the water unless they are in a kayak or are an instructor. Instructors who are not actively teaching must exit the water immediately.
We'll evaluate COVID precautions, but at this point will require proof of full vaccination and masks in hallways, locker room except while showering and while registering.
Whitewater kayaks & canoes only unless prior arrangements are made.
We've tried to offer a reasonable price, but renting a pool is expensive. We do hope to not loose money, but if we make some KCCNY traditionally donates most of our 'profit' to organizations that further our cause. In 2021 we donated $500 to American Whitewater and $250 to American Rivers. We've donated as much as $1250 in recent years. Learn more.
The KCCNY Pool Event Coordinator(s) are the authority at pool sessions and KCCNY reserves the right to expel anyone who does not follow the lifeguard's and or the Event Coordinator's instructions as well as these rules.
Registration:
More sessions will be added as dates get closer.
Upcoming pool session events