Laura and I thank all of you for kind words and expressions of support following the tragic events at the Boston Marathon this year.  I wanted to share with you my post on the Boston Athletic Association Boston Marathon Facebook page in the immediate aftermath of the bombings:
I was runner bib number 20859, one of the several thousand Boston Marathon runners who were stopped on the course when the bombs went off. I was about a half mile from the finish line, but my wife, my daughter and her husband were on a balcony of the Boston Public Library overlooking the finish line and right across from the site of the first bomb. Fortunately, none of us were hurt, although the window behind my family was broken by the blast, possibly by a piece of shrapnel that would have flown past their heads, and they will be haunted forever by the images of carnage and dismemberment they witnessed.
We are thankful for the actions of the first responders who disregarded their own safety and ran towards the blast to help the victims. Their prompt actions undoubtedly saved lives. We are thankful for the people who let me use their cell phones to get in touch with my family, reassure each other that we were not hurt, and arrange to meet. We are thankful for the volunteer who handed out plastic trash bags for the runners to wear to keep warm after they stopped running. And we are thankful for the Boston University student who accompanied me in my translucent white plastic trash bag as I walked down Commonwealth Avenue towards our meeting point.
The next morning all four of us went to downtown Boston to pick up my baggage.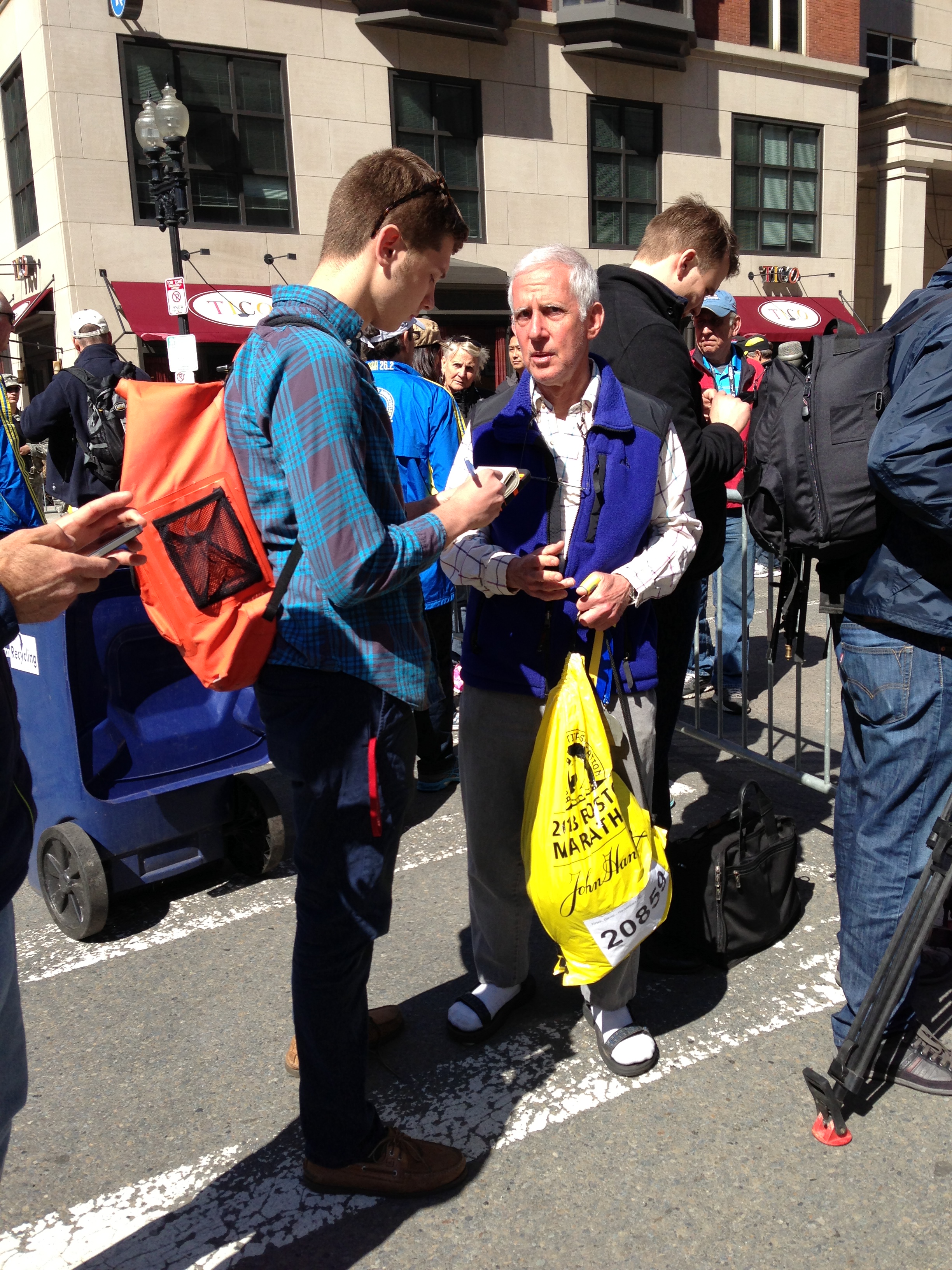 I was surprised to also be handed a finisher's medal, but somehow it felt right, even though I did not actually finish the race. I hope there will be some way to list all those still out on the course in the official results with some appropriate designation. I don't care if it shows projected finish time, last split, or no time at all. It is one way of letting the world know that whoever was responsible did not, and could not stop us – that we will finish the course whatever it takes.
This was to be my last marathon. I had promised my wife that I would not run another because of the toll the training and running takes in terms of time commitment and physical stress. But when I picked up my medal, and saw Newbury Street deserted and crime scene personnel everywhere, I knew that I had to come back next year and hope that I will be allowed to enter without a new qualifying time. If I do not come back, for whatever reason, then terrorists may think that they can win, and that must not be allowed to happen.
I hope we are all back next year to make the 2014 Boston Marathon bigger than ever, so that Massachusetts will once again fire "a shot heard 'round the world" when the race starts on Patriot's Day.